So in reading back over old log entries I came across this one about the "Repent America" people who unfurled a banner at some sports event about how homosexuality is sin and they had to be removed by security before the crowd could beat them up, and I went over to the Repent America site to see if they were still there (they are) and I clicked on the links some, and then I wrote them this note out of the kindness of my heart:
It seems odd to me that the page that I get to if I click on "All others enter here" (i.e. the page designed for non-Christians) is all about the Ten Commandments, and assumes that the reader believes that the words in the Christian Bible are true. Presumably many, even most, of the people who click on that link don't consider your bible to be an authority; so citing the Ten Commandments to those people seems kind of beside the point?

Just a friendly thought... *8)
Right away I got back an automated "we got your note" note, and not long after I got back this:
Mr. Chess:

"Wherefore the law was our schoolmaster to bring us unto Christ, that we might be justified by faith." (Gal. 3:24)

"Because that which may be known of God is manifest in them; for God hath shewed it unto them." (Rom. 1:19)

Serving the King, Michael Marcavage
Now at first (and in fact still) I thought that it was the height of irony that when I wrote to point out that Bible quotes aren't a very good way to communicate with non-believers I should get a reply consisting entirely of Bible quotes. But those quotes really are about what great teaching tools scripture makes, so they're not irrelevant (and therefore perhaps not bot-output). Of course since they are themselves quotations from scripture, anyone not already in the choir is going to think they're discountable as self-promotion (ref, as always, Kissing Hank's Ass), but presumably Mr. Marcavage is more or less forbidden from thinking that way.
Which is nice, actually; the thought that the Bible (at least as interpreted by these neophobic literalists) contains lousy PR advice is comforting in these troubled times.
(Whoa! The story quoted in that old log entry refers to Mr. Marcavage as the Director of Repent America; so this isn't just some little webmaster being funny or anything. Wild.)
"Mr. President," one aide in the meeting said. "There is a valid case that the provisions in this law undermine the Constitution."

"Stop throwing the Constitution in my face," Bush screamed back. "It's just a goddamned piece of paper!"

I've talked to three people present for the meeting that day and they all confirm that the President of the United States called the Constitution "a goddamned piece of paper."
Good thing that can't possibly be true, eh?
Snark from Morford:
War on Christmas Part II: Pope vs. Materialism

Pope Benedict warned today against rampant materialism which he said was polluting the spirit of Christmas.
...
The Reuters article doesn't mention which of his gold-embroidered robes, stoles and jewel-encrusted hats and crucifixes the Pope wore while making his statement from his treasure-filled Vatican palace.
Meta: some Washington Post thing that we recently commented had, when we went back to it later, a sidebar with this content:
Who's Blogging?

Read what bloggers are saying about this article.
For the Record
In My Defense
Log -- David Chess

Full List of Blogs (179 links) ...
Pretty scary. (In fact it still says that today, including the link to us; I wonder why we're in the three of the 179 that they decided to feature? Our worldwide fame? Our devilish good looks?)
The other day someone who will never come here entered into an old input box:
THIS WEBSITE IS SO WEIRD! OK WELL I AM GLAD I WILL NEVER COME HERE! IT SAID SOMETHING ABOUT THE 3RD AMENDMENT BUT I GUESS NOT! OK WELL EMAIL ME BACK AT

getalife@hotmail.com

zack
I don't think I'm going to email zack (because well you never know), but I do thank him (or his puppeteer) for the kind words. (The Third Amendment is all about clams.)
Widely linked:
How to stop filesharers from stealing hotel bandwidth
...
Edit: For those calling BS, I'm a network security engineer and I do security design work, penetration testing and social engineering work for a living. Yeah, it was kind of a mean thing to do, but some of us need to do real work from the hotel instead of download music. Plus, I possibly saved the guy from getting busted by the actual RIAA. Maybe someday I'll post my story about pretending to be a comcast tech and walking some guy through troubleshooting a router which was giving my home connection problems for over 3 months. It was magically fixed the next day after he put in a faulty ATM interface ticket. :)
(It was a pretty mean thing to do; although it makes a funnier story this way it probably would have been better for the universe overall if he'd just called the guy and talked it over honestly.)
From Susie Bright: Human Upgrades! The future is Now.
More spam has arrived! For a change! A recent favorite (in its entirety, minus uninteresting mail headers):
To: rd5s22i87t@davidchess.com
From: Mikayla Correa <forecasters@cartner.net>
Subject: turbans
Date: Wed, 14 Dec 2005 10:35:03 +0000 (UTC)

square asteroid larvae
Turbans! Square asteroid larvae! Must remember this for next November! (Or maybe we can have a practice WoMiFiWriMo in January or something.)
(I've gotten a bunch of spam today, in fact, with randomly generated subject lines and content, consisting of either random words like that or random one-line aphorisms, with no actual advertising or trojan horse content or anything. I can't imagine the purpose; maybe someone just testing out a spam channel or something? Very odd.)
In other spam, Portia Winrow replies to Cruz Buch on the subject of "Re: gosh skeletal", and other people reply to other people on "pussycat electrostatics" and "viatic hobbledehoy", as well as "A finish in polish wainscot" and (another favorite) "I work the nauseous esoteric".
Do you too work the nauseous esoteric?
"Kimberly Hunt" seems to have joined "Maddie Lathe" on the list of names that spammers somehow associate with some of our email addresses. Kimberly doesn't have the skewed exoticism of Maddie, but we welcome her to our psyche nonetheless; we're easy.
Fans of the Sims stories should check out the list, 'cause I've probably added to it without mentioning it here. Highlights are that Joan Danvers has graduated from college, and the Townie Project has moved into Casa Townie.
Also, some fanservice: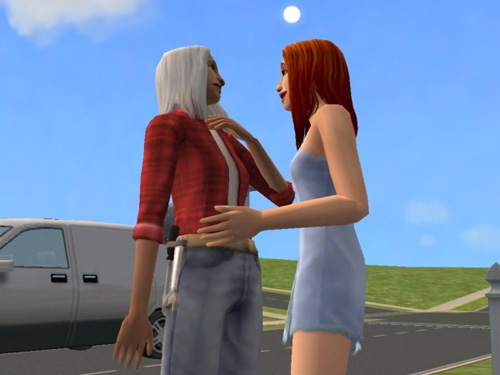 *8)