(Note that this will probably be the last entry here for a week or so. In which case, see you in September!)
Spam Subject Line o' the Day:
Re: Are live no paris chigger
(We got a better selection of Spam Subject Lines o' the Day back when the spam filters didn't work so well. That's not a complaint, exactly...)
The mainframe blog! A weblog about mainframes! I used to use mainframes.
A reader suggests this, which is in fact quite funny.
From the referer log, our URL o' the Day: yoga moment catalog plastic bamboo tree iris chacon nude. Another one of those mysterious vacuous-links sites. This one, oddly, seems to live embedded inside a more legitimate-looking site. Very odd.
I've been wearing my reading glasses up on top of my head alot today (when I have my normal glasses on), and now sitting here typing this I keep feeling like I still have them up there (even though they're actually in their case over there on the table), and I unconsciously feel for them now and then and my subconscious sends up an interrupt saying "our reading glasses are gone!".
Silly subconscious.
I feel like if I'm maybe going to be quiet for a week I should leave y'all with something profound, but I don't feel especially profound at the moment (not bad or anything, just not especially profound). So instead I'll leave you with a Sims picture. *8)
Here are the Danverses, all six of them: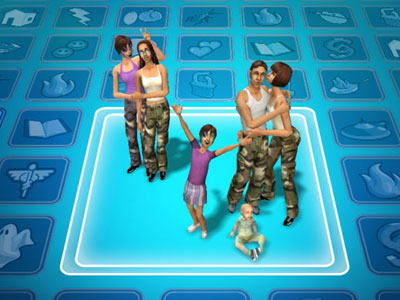 Aren't they cute? Left to right, that's Georgia (formerly Bendett; Jane's partner), Jane, Joan (Jane's sister), Justin (sitting; Georgia and Jane's adopted son), John (Jane's father) and Jean (the noted Mad Scientist, and Jane's mom). Heh, I need to get khakis for Joan and Justin, don't I?
(Turns out that running a Sims household with six people in it is alot of work, and I haven't visited the Danverses much lately. Kaylynn and Benjamin and the twins are alot of work too, although both of the twins are now potty-trained and can walk and talk, so I haven't been neglecting them entirely. I'm also about halfway through building a house for Gina to move into now that she's back in the neighborhood; in the meantime she's cooling her newly-adult heels in the Sim Bin, poor thing.)
So anyway! *8) Behave yourselves, or not, until I post again, which may be after a significantly longer interval than usual, or not. Depending.