Dear me, Thursday already! Where does the time go? What have I been doing?
We had the little daughter's birthday (I'm not going to tell you which one, both because I seem to have family privacy set on High today, and because the number scares me), and I took the day off. And I've been doing work and stuff. Oh, and I finished some books and watched some movies and things: Two movies, both utterly implausible, one mostly light SF novel, and (finally!) Steele's "The Content of Our Character".
Since Steele was my at-work book for taking with me to the Little Programmer's Room (a family habit acquired in my youth), I need a new one. At the moment it looks like it's going to be Barthes' "Mythologies"; it probably won't be any less comprehensible read in small snippets while excreting than it would be after a decade of devoted study. *8)
Hi,

I took a look at your site a couple of hours ago...
and I want to tell you that I'd really love to trade links with you. I think your site has some really good stuff related to my site's topic of music downloads and would be a great resource for my visitors as it deals with some great aspects of music downloads that I'd like to give my visitors more information about.
Sorry, Bub, this site's all about Iris Chacon! And viewing Yahoo webcams without permission. And Brazil Triplets Nude. But not music downloads (that was right out, I deny it completely).
Sin City
Olga Kern
In Peoria.
Now playing: Sin City, with Olga Kern (in Peoria)!
pattan.mid
Whoa, I haven't thought about that in a Dog's Age. It still works! And it's still awfully bad! Thanks for remembering.
Here's a better idea: If IE (or any other browser) wants to do something stupid, don't care
It's an ideal to strive for, I agree. But not caring can be tough...
playing is a form of entertainment, and whether it be playing with a ball, playing an instrument, or playing with oneself, it is usually quite an enjoybale activity.
Indeed! And don't forget playing with The Sims 2! *8)
In some Google search I ran across a particular Sims 2 user community that seems to have considerable clue (in sharp contrast to the EA Sims 2 forums, which I'm rapidly growing very tired of). One designer d00d in particular has not only done some remarkable things with the building engine, he's also written lotsa funny stories with pictures about his Sims. So that's fun.
In my own Sims neighborhood, Kaylynn and Benjamin's twins are now toddlers; Zachary: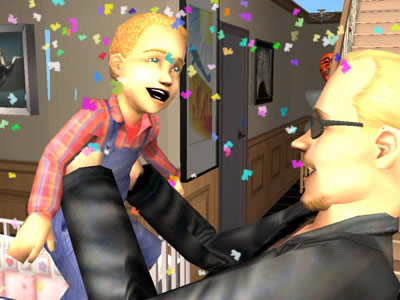 (slightly overexposed due to the sun pouring in the window; Kaylynn likes windows), and Olivia: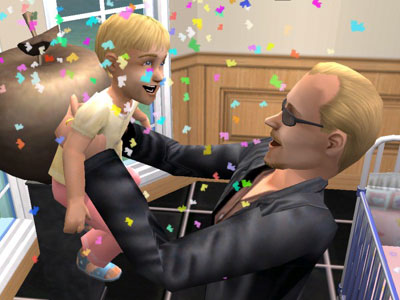 (She looks a little maniacal in that picture, but so far she's an ordinary cute little toddler, with no signs of mania.) For some reason both of them called for Benjamin when it was time to grow up; but Kaylynn didn't seem to mind.
The main floor of the house got awfully crowded with the twins' beds and toys and potties and things, so I moved them all upstairs to the big elegant salon where Kaylynn and Ben did the Saved from Death thing and got married and all. Lots of room up there, although what with all the kids and junk and potties in need of emptying it's not nearly as elegant and serene as it was. We'll probably build out the back of the main floor a bit to make them a room or two once they grow into children, and return the salon to its former glory.
Over at the Danvers', Jane and Georgia adopted a cute little toddler named Justin: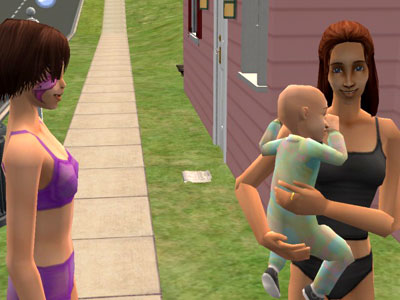 (I think it's a wonderful coincidence that his name starts with a "J", just like John and Jean and Jane and Joan and almost Georgia; when you adopt anything but a baby you don't get to choose the name yourself, so it was just dumb luck. And yeah, Georgia and Jane are in their undies; Sims in general, or at least those who don't go to work every day, seem to spend most of the time in their undies or PJs.)
Here's Joan, amusing her new little nephew: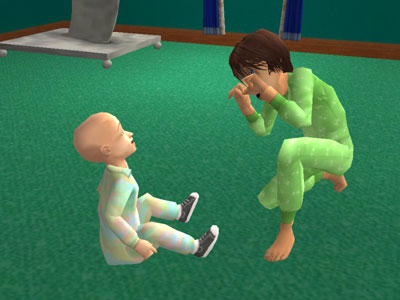 (Not the greatest picture in the world, I admit; Joan in particular seems to have some sort of cylindrical prothesis under the skin of her left wrist, and you can't see her face. But she hasn't gotten much airtime here so far, and I thought it was a cute picture at least in spirit.)
And speaking of prostheses, here's Jean (Justin's gramma, and soon to be an elder unless I change my mind) in her Mad Scientist lab, working on the shiny new machine that she brought home from work: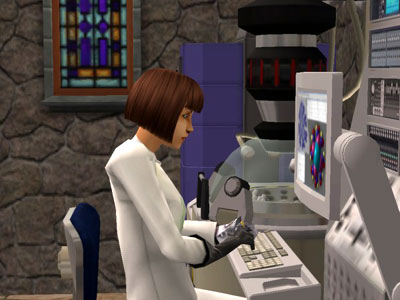 (Once Justin's all settled, Jane's going to ask Jean about the possibility of combining Jane's and Georgia's genes using her super-scientific skills, to make a baby that's genetically theirs. Although if they do that the house will have seven playable Sims in it, and I may go mad myself!)
The semesters proceed apace at Sim State University. Gina is pretty much a straight-A student, although as a Romance girl she's generally so busy falling in love and stuff that it's a wonder she gets all those assignments done: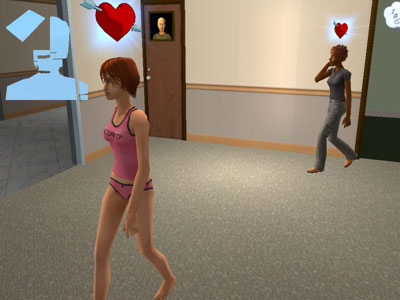 Gina's now had her first woohooal experience; fittingly enough, it was in a changing room in a downtown boutique, with a female professor: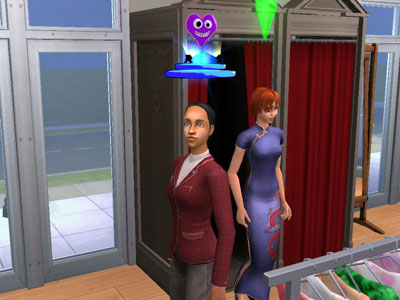 (Note the cute "public woohoo memory" dingus rotating over the somewhat dazed-looking Professor (and note how good Gina looks in that dress; but she's too poor to buy such stuff; she was just trying it on as a pretext).)
Now one might think that Gina is cynically using her amorous skills to boost her grades, but as it turns out this Professor isn't even in the Philosophy department, so the assignation didn't get her a single quantum of academic benefit. She does it all from the overflowing generosity of her heart.
One of Gina's wants just after she got to college was to have various of her friends (Randy and Sophie in particular) come and join her. So I had Randy London (who you may recall from the little misunderstanding last week) enroll and move into a dorm down the block, and he's now an Economics major (he has the Fortune aspiration, and will probably end up in the Business track).
Here he is practicing his own romantic skills in the bathroom mirror: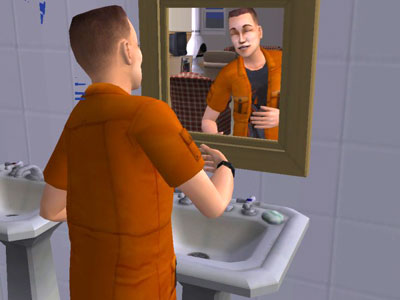 He and Gina have this cute relationship where each of them spins up a want to call the other and chat at least once a day. So they're very good friends, but since they've barely met in person since leaving the 'hood they haven't had any romantic interactions (Randy's wanted to flirt with Gina a couple of times, but he's been too busy studying and stuff to have time).
We may see more of Randy later on.
Since I took these pictures, Gina finished her Sophomore year with flying colors, and used her saved-up stipend money to move into a little house just off campus of which she's very fond. (For one thing there wasn't really space in her dorm room for a double bed; hence the whole "public changing booth" thing.) Living on her own is more work (no free in-dorm food anymore, for instance), but she seems to be enjoying it all told. I'm sure there'll be some pictures from the house in the not too distant future...