Don't worry, the government can tell what printer printed that document. Investigating Machine Identification Code Technology in Color Laser Printers:
It is especially worrisome that the Secret Service was able to coordinate with private-sector manufacturers on the development of this technology since at least the early 1990s with no public awareness, much less public discussion, of the privacy and anonymity risks for users of this technology.
Awesome cleverness: web page regendering. See for instance this very page.
Remember these matches? I'd forgotten all about them until I stumbled over that file on the website here. How odd.
Zillions of Sims mods (now I really want to learn how to write Sims mods) on a funnily-designed website: More awesome than you dot com.
On the EA discussion boards, there's a link under each posting that says "Rate this post as beneficial". You're only allowed to rate five posts a day as beneficial, and doing so is called "giving a bene". Benes are used for at least two things:
When you search the postings, you can elect to sort the results highest-rated first (which is sometimes useful), and
Everyone registered on the boards has a "BBS Rank", and one of the things that goes into one's Rank is the number of benes one's gotten (the number of one's postings that someone's rated Beneficial).
This system has resulted in at least two effects: the first one (which I think I would have thought of immediately) is that some people talk about "bene buddies": pairs (groups?) of people that just give each other all their benes every day. The idea is sneered at by the cognoscenti, of course, but it's certainly Around as a meme. I also suspect that it doesn't work at all, at least in its simplest forms, because it'd be easy to detect and because the exact relationship between benes and Rank isn't exposed:
What is my BBS rank?
Your BBS rank is determined by a super-secret algorithm based upon your contributions to The Sims 2 community, how other community members have rated your contributions to the community and your general Sim-tastic-ness. Feel free to mark posts as beneficial if you find them to be. You'll see your ranks change as the community builds and grows!
So most likely multiple benes from the same person are discounted in figuring Rank.
The other effect I've seen in my participant observation is one that I don't know if I would have thought of: let's call it The Wrong Answer Effect. One of the main ways of getting benes is to answer questions. Many of the posts on the boards are questions, and in many cases the asker gives a bene to the first person (or the first few people) that answer it. It's natural to give out benes right away (so as not to forget, not to lose track of who you still need to give one to, etc). But often answers can't be (or in any case aren't) verified right away. And there's no way to take back a bene. So...
For instance I saw a question posted saying "What does the 'Give Death Token' action in such-and-such debug menu do?". Someone answered very quickly, saying that if your Sim has a Death Token, then the next time it would normally die, it actually won't, but will get "another chance". The asker said, "Thanks, a bene for you" or other words to that effect.
But that answer was completely wrong; in fact giving a Sim a Death Token basically kills the Sim, albeit after a delay (something complicated having to do with loading a different lot and then returning to the original one, or something). The "saves your Sim from death" story was apparently a rumor some time ago when the debug menu in question was first discovered, but it's now known to be wrong. I (and other people) jumped in with the correct answer. But the person who got there first, although completely and in fact dangerously wrong, still got his bene. (And since a number of us came in to correct him, only some fraction of us got one, since the asker had at most five to start with.)
I've seen the same thing happen with other questions. Someone asks "when the last Sim on a lot dies, what happens to all their possessions?". Someone quickly answers "everything on the lot except for the house itself and any graves goes away", and gets a bene. But that answer is (at least in the consensus opinion of the people who answer afterwards) again completely wrong. That's what happens when you move a family out of a house (all their possessions are sold so they can use the money to buy into another house); but when the last Sim on a lot dies, all the possessions stay there for the next inhabitants.
Interesting social phenomenon. File in the folder with Ebay feedback and presidential elections...
But I know that you've really come for the Sims pictures! So let's see if we can get the bandwidth burden of this page up over a Meg, shall we?
Since last I wrote Kaylynn Langerak and Benjamin Long have become very friendly: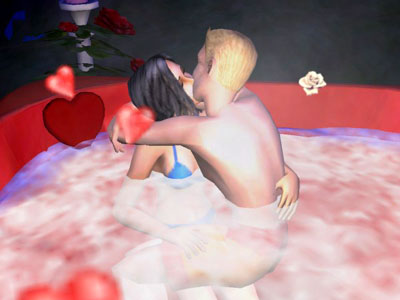 In fact she invited him to move in, and he accepted (they don't do anything interesting or picture-worthy when that happens; just a friendly hug, and the moved-in person suddenly appears on the control panel to be controlled).
Turns out he's an up-and-coming member of the City Council, with the Knowledge aspiration (a decent match to Kaylynn's Family), and he brought thirteen thousand Simoleons to the household. (With that and a twenty-five thousand bonus from a good Chance card, they're very well off and thinking about major housing improvements.) He and Kaylynn are now happily shacked up: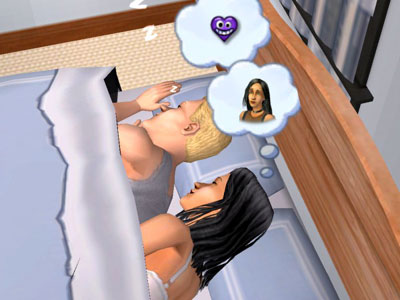 (He's thinking "that was fun", and she's thinking "Now I'm doing well".)
The only problem is (was) that, as illustrated in this picture of their first meeting: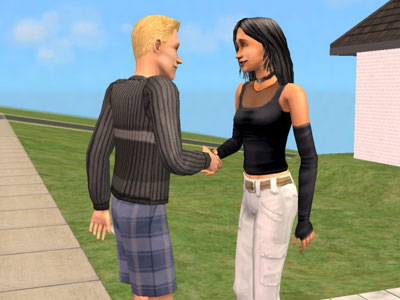 version one of Benjamin was sort of dorky-looking, with those awful shorts and that Aryan Youth League haircut. So after coming under my beneficent control he fixed the hair, and added some manly stubble and shades: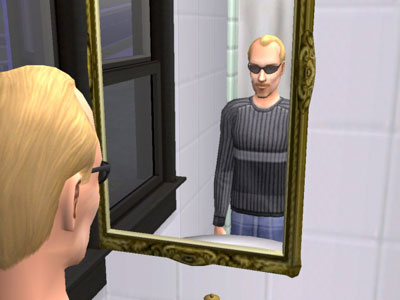 That got him looking decent in his work duds: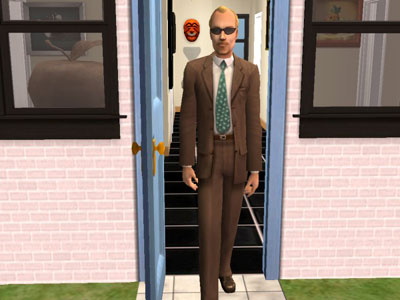 Now there's a man anyone'd be proud to bribe!
When next he got home he went to the shopping place and got some decent pants to go with his sweater (not shown), and a slick casual suit; here he is striding boldly into the bathroom: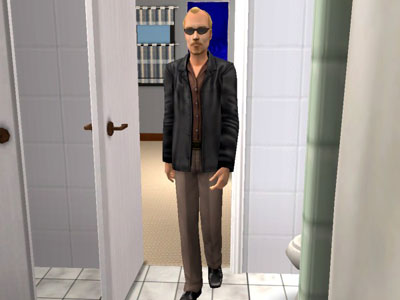 ("Next week on Celebrity Sim Makeovers...")
A side note: just as Benjamin was getting into the taxi to go shopping, Eleanor Raptor strode onto the lot, walked down to the hot tub, changed into her skimpy bikini, and headed in. (I'd forgotten to put the fence back after Kaylynn and Ben's little dip, and apparently Eleanor for some reason can interact with stuff on the lot even without being greeted; those Raptors!)
When Ben got back, she was still there (no time passes on a lot while someone's out shopping). He called her out (I rebuilt the fence), and they chatted a bit: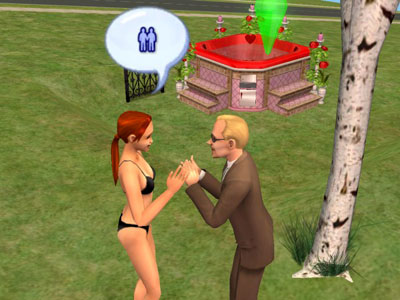 "Yeah, Kaylynn's a really good friend of mine. Who are you?"
They parted cordially enough, for the time being.
And just so Benjamin's fashion transformation doesn't get all the bandwidth tonight, here's Kaylynn in her stunning Celebrity Chef outfit: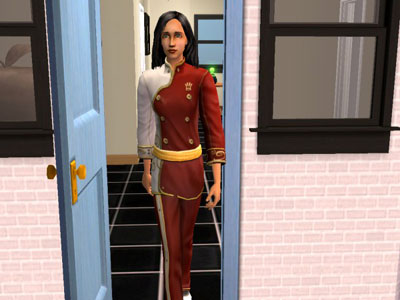 Hubba hubbba!
(Since I started writing this entry, Kaylynn has had Sally over just to get her aspiration meter pumped (nothing compromising occurred, just lots of tickling and joke-telling), and then proposed marriage to Benjamin, who accepted. I'm hoping she'll finally have some "interact with Benjamin" wants now that they're engaged, but it hasn't happened yet. Numerous pictures of all this, no doubt, to follow.)