A possible reason to be worried about Roberts:
Here's the real crux of the matter that Bush wants a proven loyalist in place for: His last notable decision was made last week, when his appeals court overturned a lower court decision that the special military tribunals for suspected terrorists at the Guantanamo detention camp in Cuba are illegal.

However a new appeal is set to go to the Supreme Court.
No idea how real that worry is; I have to admit I haven't been following the issue all that hard. My almost completely intuitive feeling is still that this is the best we could have hoped for from Bush.
From abuddhas, a fun (and notably titled) anti-Extropian essay, The Age of Batshit Crazy Machines. Some of what the author says is the kind of stuff that I tend to dismiss:
"In many ways we are worse off than ever. In ancient Greece, even slaves had a deep social role as part of a household, unlike even higher class modern workers, who are valued as things, interchangeable parts in engines of profit."
Better to be a slave in ancient Greece than an information worker today, because of the "deep social role as part of a household"? I really doubt the slaves would agree. Given the choice I know which one I'd choose.
On the other hand he's not entirely primitivist by any means:
"Best case, not likely: Time-contracted virtual reality transforms human consciousness in a good way and we regrow the biosphere better than it ever was, with wild machine life integrated with wild biology instead of replacing it, adding flexibility, and we humans can live in that world and in endless simulated sub-worlds."
Yeah, that's it! He's pessimistic that we can actually get there, but at least he thinks it'd be good.
Also from abuddhas, some anarchy:
"If only a few people ignore the government, it won't go away; instead it will come down on those few people like a ton of CS gas. But if the number of people ignoring the government, treating its commands as one would treat the commands of some delusional street person, were to reach critical mass, the power of the state, resting essentially as it does on the complaisance of the governed, would melt away like butter in the Arizona sun."
I'm unclear about how I get someone to, for instance, stop hitting me and taking my stuff if there's no government, but the anarchists have all sorts of potentially interesting answers to that worry.
Zillions of floors for The Sims 2!
And speaking of The Sims 2, here are the last big annoying photos for this week (because this is the last entry for this week, nyeh-heh-heh).
Georgia went out and got a new outfit: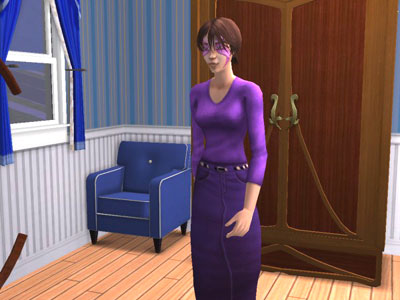 Much better than that pink dress. (Hm, that very strong vertical in the middle of the shot is pretty distracting, isn't it?)
Here's a rare picture of the whole family eating together (well, Hermes is sleeping in his crib):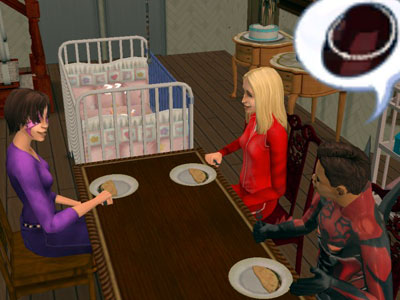 Ransom is describing some really lovely jewelry that his gang recently lifted. Note the remains of Georgia's birthday cake in the background.
And here's Ransom camping it up with a delivery person ("Groceries for the Evil Criminal Mastermind!" "OH, thank you so MUCH, sweetie; we're all just FAMISHED!):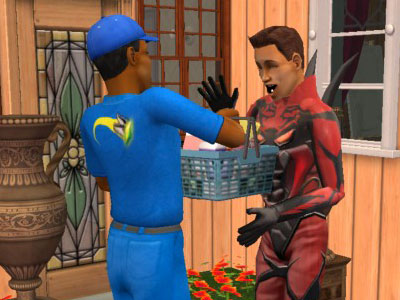 (Sorry, I just thought that was funny.) And Marisa left Hermes to the family (and the Nanny) and went to work, so we finally find out what a Hall of Famer wears to work. Turns out to be leather: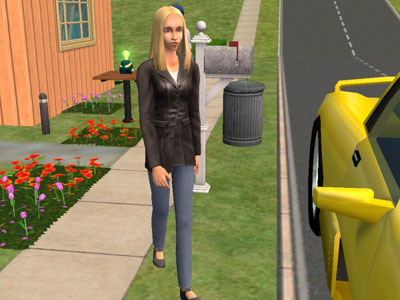 (Nice car-pool car there, also.)
And finally here's Georgia over at the Danvers', dancing with Jane.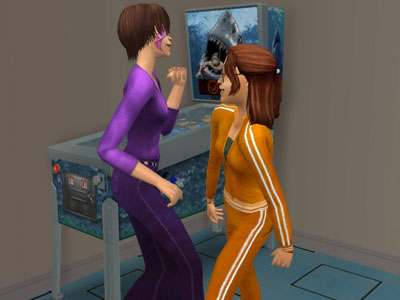 "You're such a cute little teenager," she says; and Jane says "I'm working on it, I'm working on it".
(Note the highly realistic pinball machine in the background.)