More Sims news and pictures! Ransom and Marisa are now both at the top of their professions. Ransom Zoom is a Criminal Mastermind, and gets to wear a really rad costume. Here he is in the limo on the way to work: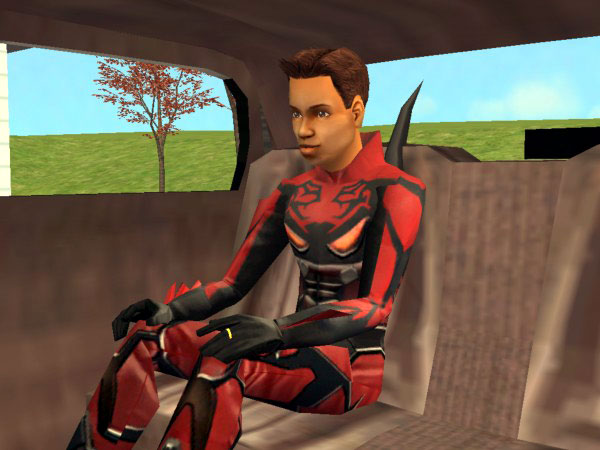 The same day (I think) Marisa was elected to the Hall of Fame (in whatever mysterious undefined sport Sims athletes play). But I can't show you what she wears to work in that job, because she hasn't been to work since her promotion: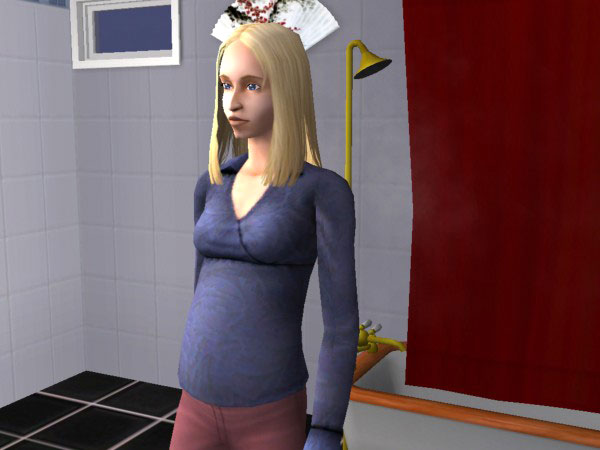 Fingers crossed to finally get a boy-child.
(Hm, kinda boring expressions on their faces there, eh? In motion they're much more animated; the pictures are just badly timed.)
In the Raptor household, Kaylynn is getting along very nicely (she came in with her Cooking, Cleaning, and Creativity skills all maxed out, so she's a real asset); although she wants to get engaged to Eleanor and that's unlikely to happen (I'm still planning to have her find a place of her own soon, so she can do Family things).
And Gina had her birthday party and grew into a fetching teenager: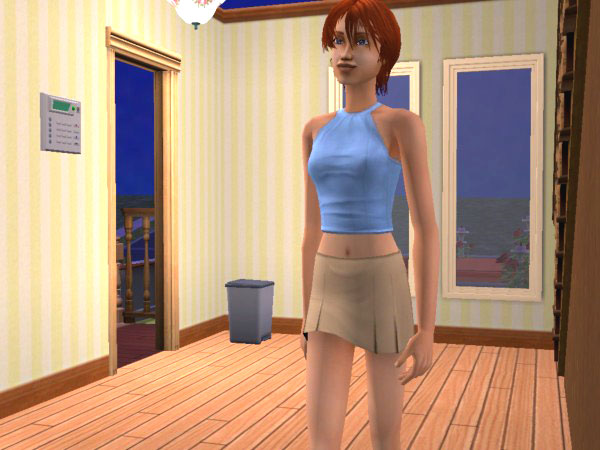 I noticed that on the same Settings menu that let me make these pictures bigger and cleaner, there are also settings for rendering detail and texture resolution and stuff. They were all set quite low (by default, or perhaps because the game thinks my computer and/or video card are wimp); I set some of them up higher, and now things look really breathtakingly breathtaking.
All too easy to vanish into these little worlds and never come out!
On this Roberts dude, Reason has a readable item that also points to this summary of information and pointers to other things about him. Lots of useful reading there if you're deciding how loudly to shout at your Senators or anything.
From the referer log, we find that the impressive Cosma Shalizi has linked to our speculations about alien overlord transplants, which is highly flattering. From there I wandered here and here, which led to the hysterical Theological Engineering Exam 1, which I may well have linked to before but certainly deserves it again.
Stan is a frictionless, massless Mormon in a rest state...
(This is one of those pages where it's really hard to explain to even a very bright eleven-year-old what it is you're laughing about.)
And somewhere in there we also wandered to this entry and thence to Erasing Landauer's principle, which is very interesting stuff. (Think you know that it inevitably costs energy to erase information? Maybe not!)
Also from the referer log, a mysterious URL that might be, like, inside the Google Intranet. K00l. (Hm, is it rude for me to post that? De minimus, I think.)
And the last link from the referer log: a hysterical page on another one of those vacuous link-gathering sites that I still only dimly understand. (I've used "nofollow" in that link, on the theory that whatever it is they're doing, it smells fishy.) Some great deadpan lines, though:
I've tried my best to put together the most comprehensive outdoor fucking site on the Internet.
Indeed.
treehouse

ginger bread

bauhaus

out house

doll house

pee-wee's play house
And more extendedly, Kind of house:
, he said, That's not so much a house as a home. He led me upstairs and pointed out the fine large rooms, empty and recently vacated by the former owners, who we asking quite a reasonable sum for the property. And up the next flight, he said, motioning me upwards, Is a most interesting, not to say peculiar layout. I stumbled on the threshold at the foot of the stairs; I almost fell forward; it was dark. Are there no windows? I asked, but there came no answer, save the slamming of the door behind me and the sound of a key turning in the lock. For God's sake man! I cried, but all I heard was footsteps receding down the uncarpeted stairs. I stood, breathing in a strange sickly sweet smell of rot; then I heard from across the room a slithering sound, a noise which froze my blood in my veins.
(Yeek!)
i would like to live in best would be a palmleaf hut on a desert island i would have only seaslugs for my food and only treeshrews for my company and i would write tiny poems on treebark and float them off into the ocean in search of a publisher of course a wifi hotspot would be nice but you cant expect everything
which speaks for itself; and finally Kind of house:
I often dream of being in wonderful, fantastical houses (or other buildings). I always expect these dreams to be harbingers of Something Important, but usually they just put me in a good mood the next day. Which is, I guess, enough.
I have the best readers...