Prompt o' the day: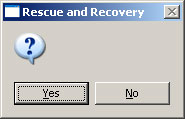 I picked "No"; so far all seems fine.
Colleague Cliff Pickover on Boing Boing; yay Cliff!
From Steve (who used to have a weblog a long time ago), in-car WiFi. Woot an' all!
I think I want one of these; isn't that silly?
Our quote of the day is from Shalizi:
Wasting money on jets and battle-ships for never-going-to-happen wars is one thing, and might even be excused as Keynesianism-that-dare-not-speak-its-name, but making money out of classifying peaceful political opponents of the current administration as enemies of the state seems, not put too fine a point on it, like a danger to the republic.
Everyone should be reading Three-Toed Sloth in general, and not only because it can casually lead one to The Abominations of Yondo.
With respect to our political surprise the other day, a reader writes:
You forgot the dark horse current mayor of NYC. Now, *he* might actually be worth a look.....
Interesting point. That would add to my list of Presidential possibilities:
a third-party candidate (and those never win Presidential elections these days!)
which would be indeed surprising.